Cod's Gift is a restaurant focused on sustainable sourced seafood in Dural in Sydney's north west. The interior is beautiful and lush, with velvet, brass and marble featuring heavily among the blue and green tones.

The menu is definitely not your standard fish and chips fare. We started off with half dozen of the Sydney Rock oysters from Merimbula in NSW. They were dressed with a Caramelised cabarnet vinegar with escallot and native pepper; and house ponzu with finger lime. The oysters were plump and creamy and I would have been perfectly happy to eat them with just a squeeze of lemon, but the dressings added an extra dimension to them.

The Kingfish sashimi looked like a beautiful summery dish when it hit our table. It was dazzling with flavour from the watermelon, blood orange, pistachio and jalapeno combination.

Straying from the seafood theme temporarily, the Portobello mushroom was a bit milder in flavour compared to some of the other dishes. The buckwheat and crisp lotus were some interesting textural additions.

The Lobster donuts caught my eye when looking through the menu. The mini donuts were filled with rock lobster, tom yum mayonnaise, sweet corn and lemongrass salt. It was the perfect sweet and salty combo.

Lobster donuts: Western Australia rock lobster, tom yum mayonnaise, sweet corn & lemongrass salt $22.5

The Snapper with sage crumb was beautifully cooked with a crispy coating and still flakey on the inside. The shaved fennel added a touch of freshness and it was a very satisfying dish to eat.

For dessert, we couldn't go past the Figs with mango, sticky rice ice cream and black sesame tuille. It was quite a sweet dessert and I wished there was more of the delicious, locally sourced figs.

Cod's Gift is well worth the drive to Sydney's north west, with the seafood dishes definitely playing the starring role,
Powered by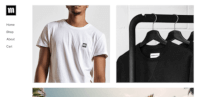 Create your own unique website with customizable templates.