Ever since I went to Devon on Danks for brunch, I have wanted to come back to try their dinner menu - which is quite creative, with an Asian twist.

Beef tartare is something that can taste terrible when it is done poorly but in Devon on Dank's case, it is spectacular. Firstly, the presentation of the Korean steak tartare: a bright yellow yolk in the middle, surrounded by thin nashi pear slices like petals of a flower, with the beef just hidden underneath.

The Tajima beef was exceptional with a melt in your mouth texture and was mixed in a very tasty sweet soy and sesame dressing. A mouthful of the beef, with some of the yolk and the sweet nashi pair is heaven.




The twice cooked crispy pork hock was not as mindblowing, but equally delicious. The sticky sweet and sour sauce was nicely balanced and the peanuts added an extra texture to the dish.

The intriguingly named Treasures beneath the snow was perfect for a cold, rainy night. The "snow" was the milk and egg white, with flakes of crab meat mixed through. It was fluffy and light, and the black vinegar gave it a good flavour kick.

Treasures beneath the snow - crab meat, stir fried milk and egg whites, snow fungus, cured egg yolk, black vinegar and soy $29

There were a couple of desserts that caught my eye when looking through the menu, but we finally decided on the Sago pudding, coconut jelly, guava sorbet and freeze dried pineapple. The guava sorbet was very refreshing and balanced well against the palm sugar and the sago. Not one component overpowered the other and I liked the addition of the freeze dried pineapple, which I had never tried before.

The vibe is fun and casual, and the food is very reasonably priced. The Devon Cafe changes their menu seasonally so I look forward to coming back for more Devon by Night dinners.

Devon on Danks is an extension of the very popular Devon Cafe in Surry Hills. Visiting on the opening weekend, we were lucky to get a seat without waiting. However, we were informed that the kitchen was closed for 20 minutes to catch up on their orders.

Feeling rather hungry, we decided to skip straight to desserts and ordered the mini donuts, which sat on the pastry bar, demanding to be eaten.

These weren't ordinary donuts. The flavours change day to day and today's selection was Raspberry sugar, Milo and Matcha with red bean. We decided to get one each and weren't disappointed. The raspberry one came with a syringe, for you to inject your own raspberry coulis into it. The matcha and red bean had really authentic flavours and had a great texture.

Breakfast With the Sakuma's is one of Devon Cafe's most popular dish. It consists of salmon, a smoked eel croquette, a gooey 63 degree egg and kewpie mayo. The salmon was perfectly tender, the croquette was crispy tho I could not really taste the smoked eel.

Breakfast With the Sakuma's - miso grilled king salmon, smoked eel croquette, 63' egg, radish petit salad & kewpie mayonnaise $24.5

Lucky Duck is an exclusive dish at the Devon on Danks branch and consists of crispy duck leg, French buckwheat crepe, a fried duck egg, duck liver parfait and blueberry preserve. The parfait was rich yet not overly so. The duck was crispy and well seasoned. The saltiness of the duck egg was balanced by the sweetness of the blueberry preserve, with the buckwheat crepe the perfect accompaniment to this very flavoursome dish.



Lucky Duck - French buckwheat crepe, crispy duck leg, duck liver parfait, fried duck egg, blueberry preserve ($24.5)

We debated whether to get our second dessert of this meal given we were fairly full. The pork floss cronut was just too intriguing to pass up. It tasted exactly like the pork floss buns you can get at Asian bakery stores but with a crunchy pastry - love it. The pastry at Brewtown Newtown is a tad crispier but I love their Asian inspired flavours here.

There are still so many things I want to try from this menu, will definitely be paying Devon on Danks another visit.
Powered by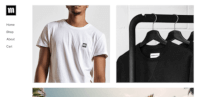 Create your own unique website with customizable templates.