On my search for the best lobster rolls in Sydney, I ventured to Waterman's Lobster Co in Potts Point. My friend and I were seated on one of the outside tables, nabbing one of the last remaining tables on a busy Satusrday afternoon.

We started with the New England Clam Chowder which was packed full of flavours from the sea. The chowder was creamy and rich and I particularly enjoyed the meaty clams and the crunchy, buttery croutons.

The White anchovies with shaved beetroot looked spectacular on the plate. The crispy slices of differently coloured beetroot were artfully arranged, interspersed with the cured anchovies which had a great intensity of flavour.

And onto the lobster rolls! The 'Connecticut' style lobster roll came on a buttery toasted brioche roll, which was heavenly - crunchy on the outside, soft on the inside. The lobster meat has a subtle sweetness and there was a decent serving (knowing how expensive this is in Australia, it can't compare to the much bigger portions you get in America).

The 'Maine' lobster roll came with tangy Mayo and celery, which still allowed the lobster to shine. I found it hard to pick my preferred version, but in the end, I think the buttery roll of the 'Connecticut' style won me over. You can choose to add a side of crunchy fries (sprinkled with paprika) or pickles to the dish, both of which are great additions.

Good atmosphere and friendly service, I will no doubt be back to get my lobster fix.

Having tried the lobster roll at Johnny Lobster recently, I was keen to try out other versions of this Boston classic in Sydney. This time, we went to Burger Liquor Lobster in Paddington. Above the London Hotel, Burger Liquor Lobster has a funky interior with colourful graffiti adorning its wall.


The menu is simple and comes under the 3 headings of - no surprise - burgers, liquor and lobster.

We tried the Soft shell crab burger with chilli Singapore sauce and Asian slaw. My mouth was watering when this landed on our table with the crispy legs sticking out, waiting to be devoured. The soft shell crab was delicious - crunchy and soft at the same time, and the Singapore sauce added a spicy hit to the dish.

The Salt and pepper lobster roll with lemon aioli, chives, red onion and iceberg lettuce was really why I came to BLL for. It's not the normal steamed lobster that I adore, but was a very tasty alternative. Being deep fried, the meat was still succulent and the lemon aioli went superbly with the lobster. In terms of lobster content, I felt this was slightly more generous than Johnny Lobster.

Operating as a pop-up, get here for your lobster fix before it's too late!

I was very excited to hear that a casual eatery serving lobster rolls has recently opened in Crows Nest. Ever since I went to NY and Boston in 2011, I have been in love with lobster rolls.

The interior is modern with a red and blue theme, definitely a notch up from your standard fish n chips store.

Of course, I had to order the lobster roll. Johnny Lobster's version contained chunks of lobster with tomato, cucumber, potato, dill and mayo, all inside a brioche roll. The toasted brioche roll was divine, one of the best I've ever had! I was hoping for slightly more lobster, but knowing how expensive lobster is in Sydney, it was more wishful thinking. The lobster meat was nicely cooked and went well with the dill mayo.



We also ordered the Fish Roll with Pico de Gallo Salsa. The fish was wonderfully crispy on the outside, nicely complemented by the fresh and zesty tomato and cucumber salsa.

The Haloumi salad with fennel, radish, pickled carrots, rocket and orange was another very fresh and colourful dish, though could have done with a bit more dressing.

Great place to grab a bit to eat, am keen to try the soft shell crab roll next time!
Powered by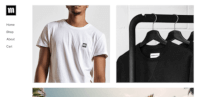 Create your own unique website with customizable templates.