Bodega has been a feature of the Surry Hills dining scene for many years but only recently did I finally pay this Latin inspired tapas joint a visit. Located on an alleyway near Central Station, the venue was packed on a Tuesday evening.

The Hot cross bun with corned beef, smoked oyster mayo and kimchi stood out on the menu. It was a lovely mix of sweet, salty and spicy and makes me wonder why we don't have hot cross buns more often in restaurant menus! it makes for a refreshing change from all the brioche burgers that are popping up all over the place!

Bodega's Fish Fingers are definitely not the deep fried varieties you may find in the frozen food section of a supermarket. Instead, it is beautiful slices of Kingfish on charred toast with cuttlefish ceviche and grated mojima. It had beautiful flavours and was wonderfully balanced.

Steak tartare is one of my favourite things to eat and the Bodega version had a wonderful texture. The plantain chips were super crispy and great accompaniment to the tasty tartare.

Our final dish of Corn tamale with miso eggplant and avocado is an interesting fusion of South American and Japanese influences. The corn tamale smelled delicious and was surprisingly filling. The miso eggplant is a perfect mix of salty and sweet and I loved the gooey texture.

All in all, Bodega delivered in terms of flavour and service. It's another must visit in the Surry Hills dining landscape.

Northern Italian smokehouse? I was immediately intrigued and decided to pay Grolla in Neutral Bay a visit. Nearly all the items on the menu have a smoked element, from appetisers to desserts.

My friend and I started with the Smoked duck breast. The smoked duck was beautifully prepared, paired with ricotta and a caramelised fig sauce. You can't go wrong with this combination.

The Smoked kingfish carpaccio is one of their signature dishes. The smokiness was subtle but noticeable. It presented beautifully with a drizzle of olive oil, flying fish roe and a sprinkling of beetroot powder.

Onto the mains and we went with the owner's recommendation and ordered the Smoked beef rib. The beef rib was incredibly juicy and melted in my mouth. The Mojo Verde packed a punch of flavour and really freshened up the dish.

Similarly, the Smoked pork jowl and cheek was infused with great flavour from the smoking process. Each mouthful, with the smooth, creamy cauliflower puree was a joy to eat.

Onto dessert and the food continued to impressive, both in taste and aesthetic appeal. A beautiful glass ornament landed at our table. Lifting the lid, we were greeted by our first dessert:

M

acadamia nut Lemon myrtle Coconut ice cream, corn puff, pistachio, smoked salted caramel

. The ice cream was creamy and refreshing, and I loved the crunchy texture of the corn puffs. The smoked salted caramel tied the whole dish together.

The Mascarpone semifreddo looked equally stunning. The mango and lime curd center was simply divine. The semifreddo was topped with a sprinkling of the strawberry dust, and of course the smoked caramel sauce. I was impressed Grolla has been able to incorporate smokiness into desserts and actually elevate the dish, rather than being a distraction.

Grolla is definitely worth a visit, offering beautifully presented, fusion cuisine with unique flavours and personable service.
Powered by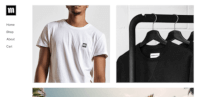 Create your own unique website with customizable templates.